Once Upon a Sign: The New Stone Soup in American Sign Language
DVD Release:
January 17, 2017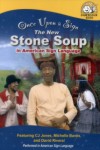 Synopsis
"Once Upon a Sign" is a series of classic children's stories re-created with modern themes and performed entirely in beautiful American Sign Language. Delight the whole family all over again with timeless stories with new twists.
Deep in the Redwoods of Northern California, a quaint village is just starting the day. A trio of travelling performers arrive and wow the townspeople. But the villagers need a little help showing their appreciation. How will three little stones accomplish that?
Dove Review
"The New Stone Soup" is a wonderful episode from the "Once Upon a Sign" series that teaches American Sign Language, along with an important lesson about sharing. The story is narrated with sign language subtitles and vocal storytelling. It is a lot of fun for the hearing audience and the hearing impaired.
"The New Stone Soup" tells the story of three traveling magicians who are hungry, but when they ask the people in the community for food, no one gives them any. The three decide to do one more show and make stone soup that they will share. Along the way, they encourage the people of the community to share some ingredients to add to the soup. The end of each tale features a lesson in sign language. We are proud to award this episode, "Once Upon a Sign: The New Stone Soup in American Sign Language," with the Dove "Family-Approved" Seal for all ages.