Brooklyn
Theatrical Release:
November 4, 2015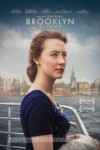 Synopsis
In 1950s Ireland and New York, young Eilis Lacey has to choose between two men and two countries.
Dove Review
"Brooklyn" is a dramatic film about human choices and emotions. The story takes place in the 1950s. Saoirse (pronounced Ser-sha) Ronan is superb as the young Irish immigrant Eilis Lacey. She leaves her homeland, her mother and her sister, Rose, to travel by ship to Brooklyn, New York, where she works in a department store, lives in a boardinghouse, and dreadfully misses home while shedding a few tears over it. That is, until she meets Tony (Emory Cohen), a young Italian man whom she later describes as, "sweet, funny, and he has great eyes." They fall in love, and soon she has dinner at his parents' home, meets his brothers, and goes to see the Brooklyn Dodgers play. She has overcome her homesickness until she gets word from home about a loved one dying.
She decides she needs to return home for a short time. Tony coaxes her into marrying him before she leaves, rather than afterward, when she would return. When she gets home, she grieves for her deceased loved one, but her mother, best friend Nancy, and a young man named Jim are ecstatic to see her again and begin to act as if she is never leaving. She is given a part-time job and encouraged to join Nancy, her fiancé and Jim on outings. It soon becomes obvious that Jim has serious intentions and her mother doesn't want her to leave, and Ellis now has to decide where her home should truly be — in Ireland or back in Brooklyn with Tony.
The visuals are breathtaking in various scenes, including a scene of a beach in Ireland and the recreation of Brooklyn in the 50s is incredible. The film also has several comedic moments that are laugh-out-loud funny. One of these hilarious moments is when the ladies are eating at the boardinghouse and start a discussion about whether Jesus used soap. In another scene, not much is happening at a dance, and one young lady says, "Well, some fellas will come along soon." Her friend says, "Yes, some people will be coming soon," and the first woman replies, "And probably some of them will be fellas." Regrettably, the movie contains a scene of strong sexual content, not to mention a few utterances of strong language, so we are unable to award the film our Dove "Family-Approved' Seal.
Content Description
Sex:
An unmarried couple have sex a short time before their wedding, and although there is no nudity, what is happening becomes very obvious with the woman drawing up her legs; passionate kissing.
Nudity:
Swimwear; cleavage and shirtless men; men in shorts; woman's thigh is visible as she prepares to go to the bathroom and as she and her boyfriend make out.
Info
Company:
Fox Searchlight Pictures
Reviewer:
Edwin L. Carpenter