For Better or For Worse
DVD Release:
February 2, 2016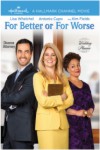 Synopsis
Opposites attract when Wendy, a wedding coordinator, and Marco, a divorce attorney, find their lives suddenly intertwined. Wendy is finally settling into the single life after struggling with the death of her husband. After a difficult season of grief, she's taken over the family business of coordinating the town's most beautiful and memorable weddings with the help of her friend and co-worker Roseanne. Wendy's business and values are challenged, however, when the charming and incredibly irritating Marco opens up shop as a divorce attorney right next to her wedding chapel. Although Wendy will stop at nothing to promote her marriage business over Marco's divorce business, she must form an alliance with Marco after her son Collin announces his unexpected engagement to Marco's daughter, Sophia. As Wendy grows closer to Marco, she begins to realize that if she shields herself from the pain of love lost, she may prevent herself from experiencing true love in the future. Will Wendy open up to a second chance at love?
Dove Review
In every family, no matter the circumstances, we want the best for our children. This story is no different. Wendy, who runs a beautiful wedding planning business, has raised her son by herself after her husband's death. She sends Collin to college and hopes that he will have a great future and someday find love. Marco also wants that for his daughter Sophia, but he also wants her to be a lawyer, like himself, and become a partner in his business.
But when Collin and Sophia announce that they want to marry, drop out of school and become vegan organic farmers, the parents try to find ways to stop this union from happening. Even though Marco and Wendy don't see eye to eye on other things, they put aside their differences to try and stop the wedding. But along the way, they find that they are not much different when it comes to love, and that they should both want what is best for their children. "For Better or For Worse" is a very entertaining movie about true love and includes some comedy that will have the audience in stitches. We are proud to award this film with the Dove "Family-Approved" Seal for all ages.