Beyond Beyond
DVD Release:
March 8, 2016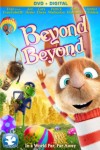 Synopsis
Jonah (Evan from EvanTubeHD) and his father (Cary Elwes) embark on the adventure of a lifetime beyond the sea to a magical land ruled by The Feather King (Patrick Warburton) in order to find Jonah's mother (Ambyr Childers). Along the way, they encounter Bill (Jon Heder), a mischievous sailor, and The Captain (Emily Deschanel), who together hold the key to reuniting Jonah with his mother.
Dove Review
Jonah and his parents have a wonderful life together until, one day, a bird comes along and takes away his mom, who had been sick. When this happens, Jonah and his dad move to a boat on the ocean, and every day Jonah sends a letter to his mother. But his father thinks these letters are ridiculous.
On their travels, they have communications with a sailor, Bill, who warns them of the Feather King. But when Jonah's father has to leave the boat for awhile for supplies, Jonah ends up helping Bill. This adventure leads Jonah to the island of the Feather King, who is really not in charge. Everyone who enters must have a ticket. Bill gives Jonah his ticket, but it will not allow him to enter, so he sneaks past the Captain. Before they can capture him, Jonah is reunited with his mom. There, in her cute, little home away from the sadness and despair, his mom has collected his bottles and letters, and that's when Jonah knows he has always been in her heart. "Beyond Beyond" is a charming little story about the loss of a loved one and how that loss effects others. We are proud to award this movie with the Dove "Family-Approved" Seal for all ages.