Lessons for Emily and Jacob (Illustrated Book)
Book Release:
November 10, 2015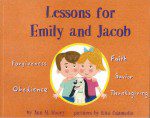 Synopsis
Jacob and his sister Emily learn valuable lessons of faith, obedience, forgiveness and thanksgiving, along with the real reason why they celebrate and decorate for Christmas. This book teaches lessons in a holiday setting, to help give the reader a mental picture of each of these lessons.
Children will learn about forgiveness in "A Valentine for Jesus," faith in "Lamb and the Easter Bunny," and the benefit of obedience in "Jacob Learns Obedience." They will also learn to be thankful in all things in "Let's Thank God for Turnips!" The true meaning of Christmas becomes clear in "The Nails on Grandma's Tree."
Dove Review
"Lessons for Emily and Jacob" is a beautiful, illustrated book for children. Each of the five stories in the collection teaches valuable life lessons. Children will learn about why they should forgive people who have hurt them, why the pilgrims were so thankful to God for the food they had to eat, and why they should obey their parents and other people in authority. In the book, Grandpa tells how Jesus became the Easter Lamb. Grandma tells the children why the gifts she gives for Christmas represent not only the birth of Jesus, but also his life, which is the gift God gave everyone.
We are very proud to award this illustrated book the "Faith-Friendly" Seal for all ages and 5 Doves for it's high quality storytelling.
Info
Company:
Abba Father Media, Inc.
Industry Rating:
Not Rated
Starring:
Illustrater: Rita Csizmadia