Santa's Mysterious Boot (Illustrated)
Book Release:
September 13, 2015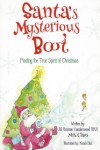 Synopsis
Santa is trying out a special boot this year to make snow in places like New Zealand, where it's summer in December. The buttons along the side of the boot can make more than just snow. One button plays Christmas music, one sprays a mist to help children have gingerbread dreams, and the other button makes the boot turbo charged to help Santa get up the chimney. Tim and Tommy Adams have plans to capture the real Santa, but Santa has other plans. His boot has a special part in helping the boys discover the true spirit of Christmas.
Dove Review
"Santa's Mysterious Boot" is a wonderful storybook that will help children discover the true spirit of Christmas. This charming book teaches two young boys, with the help of Santa's special boot, the importance of helping others.
Santa accidentally leaves behind the boot, so when Tommy and Tim Adams find it, they think they have found the perfect way to see the real Santa. Instead, Santa sends them on a mission to help him spread the Christmas spirit. This is a charming book that everyone will enjoy. We are proud to award it the Dove "Family-Approved" Seal for all ages.
Info
Starring:
Illustrated by Kerah Diez