The Choice
Theatrical Release:
February 5, 2016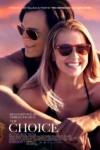 Synopsis
When feisty medical student Gabby Holland moves in next door to perennial ladies' man Travis Shaw, they embark on a surprising romantic journey neither imagined possible. Travis has always believed a serious relationship would cramp his easygoing lifestyle, and Gabby is preparing to settle down with her long-term boyfriend—until an irresistible attraction between the unlikely couple upends both of their well-planned lives. Spanning a decade and tracing the evolution of a love affair that is ultimately tested by life's most defining events, this story features a memorable ensemble of friends and family in Nicholas Sparks' beloved North Carolina setting, culminating with the question that every couple must ask themselves: How far would you go to keep the hope of love alive?
Dove Review
"The Choice" is geared toward the ladies and romantics, as it's based on a Nicholas Sparks novel. It features Teresa Palmer as Gabby Holland, a strong-willed medical student at the local hospital, and Benjamin Walker, as Travis Parker, Gabby's neighbor. Travis has loud parties with his friends, with the music cranked up. One evening, when Gabby goes over to let him have it — funny enough more about her pregnant dog than his music — they verbally spar. She accuses his dog of getting her dog pregnant, and they exchange a rapid-fire dialogue of one-liners while shaking their heads with sarcastic laughter. Later on, they tell each other, "You bother me," and apparently it is a good "bother."
When Gabby's boyfriend, Dr. Ryan McCarthy (Tom Welling), leaves town on a trip for his job, Gabby and Travis spend time together and soon get passionate with one another. Gabby has to make a choice when Ryan returns: Will she stay with him or move forward with Travis? The film shows Gabby traveling to her parents' home in South Carolina to make her choice. It also follows up on her life after that, including an incident that will require the man in her life to be there for her like never before.
The movie features a great scene in a church with a lively choir and dramatic moments as well as comedy, but it seemed a bit long in some scenes. A little editing would have tightened up the story a bit. Nevertheless, strong sexual content is present in the film, so we are unable to award the film our Dove "Family-Approved" Seal.
Content Description
Sex:
Passionate kissing, and a couple has sex outside of marriage; woman straddles man with clothes on, and then they are shown in bed together; a few comments about sex.
Language:
G/OMG-12; For G's sake-1; D-10; H-8; A-5; S-1; Slang for testicles-2; Butt-1; Crap-1; S.O.B. (The initials are spoken, not the word)-1; Dork (in jest)-2
Drugs:
Drinking in several scenes, including beer and wine; the mention of drinking and getting drinks several times.
Info
Reviewer:
Edwin L. Carpenter