94 Feet
DVD Release:
April 19, 2016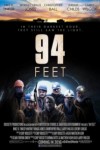 Synopsis
An industry that has sustained a town for more than 100 years is closing its doors. A family, who has been the cornerstone of the community, has given up. The only thing that can save the dying little town is an unspeakable tragedy.
Dove Review
"94 Feet" is a dramatic, tension-filled drama, which is inspiring, not to mention based on true events. St. Michaels, Indiana endured a mine explosion in November 1991 and survived that as well as a recession, but circumstances are looking pretty hopeless when the mine owner decides to lay off 75 percent of his workers. The foreman, Chris Rossi (Mike R. Tinker), is saddened to hear of the impending lay-offs of his men, including his best friend Marco (Christopher Ball). Marco's had a rough life, including the fact the whole town seems to be aware of his wife, Janet (Courtney Lee Simpson), having an affair. Marco has a strong Christian faith, and Chris is determined to protect him as much as possible.
However, Chris and his wife Denise (Whitney Kraus Jones) decide they may need a change and plan on moving, despite the protests from their friends when they are all gathered together in a town hall meeting at the local church. However, nothing goes as planned, and when a mine collapse occurs, the men race against time as their oxygen level begins to run out. Will they be saved? Will any of them die? The event is life-changing for everyone — the miners and their families. We are pleased to award "94 Feet" our "Faith-Friendly" 12-plus Seal. This movie shows how a community pulls together when the chips are down and is a great reminder of what's most important in life.
Content Description
Drugs:
A few older photos of people drinking in the town; a comment that some used to indulge a little too much.
Info
Company:
LightWorx Entertainment
Reviewer:
Edwin L. Carpenter