Once Upon a Sign: The New Three Little Pigs in American Sign Language
DVD Release:
August 16, 2016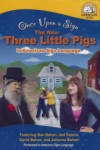 Synopsis
Tom, Larry, and Sunny have all purchased their own land and will be building their own houses. All of them have different ideas on how to build the best house. But which house will be able to stand up to the Wolf? What valuable lessons will the Piggy family learn in the end?
Get excited for Fun Signs, a recap of key signs from the story. Join in the fun by signing along, as this series is perfect for kids learning ASL!
"Once Upon a Sign" is a series of classic children's stories re-created with modern themes and performed entirely in beautiful American Sign Language. Delight the whole family all over again with timeless stories with new twists.
Dove Review
The "Once Upon a Sign" series is narrated and also told in American Sign language.
The wonderful actors and colorful animation make learning American Sign Language fun for everyone. This episode tells of the beloved story of "The Three Little Pigs." Most people are familiar with the tale of the terrible wolf, who tries to destroy the homes of three little pigs. This modern-day version also encourages kids to do more than just play video games and be inside. It also teaches families to work together. We are pleased to award "Once Upon a Sign: The New Three Little Pigs in American Sign Language" the Dove "Family-Approved" Seal for all ages.