The Memory Book
DVD Release:
April 5, 2016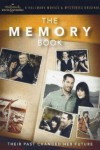 Synopsis
Budding photographer Chloe comes from a family of failed romances. At a local flea market, she stumbles upon an old photo album from the 1970s, which chronicles the ideal romance of a happy couple. Unable to find her own "true love," she sets out to find the couple in the album and prove that true love exists. Along the way, she meets Gabe Sinclair, a mysterious but charming bartender who seizes the opportunity to join Chloe's mission and soon finds himself falling in love with her. With limited resources, the two go on an adventure, searching for clues that will lead them to the couple in the album and hopefully to true love. As the search continues, Chloe begins taking an interest in Gabe but won't let these feelings distract her from her mission to find the couple. Will Chloe learn to give up her fear of falling in love and finally find true happiness?
Dove Review
Chloe is an up-and-coming photographer. A gentleman, whom she mistakes for an art critic, visits her art show and points out that her photographs mainly feature antique objects. When she visits the restaurant around the corner, she is intrigued with the pictures on the wall and also the man she met earlier, who turns out to be the bartender.
Chloe finds an old photo album of a very happy couple. She has never been the adventurous type, but Gabe encourages her to find the couple and together they discover clues that might lead them to the people in the photo album. In the meantime, they learn a lot about each other. The problem is that Chloe tries to keep her distance from Gabe because she's not sure what real love is. "The Memory Book" is a wonderful story full of comedy, adventure and love. We award it the Dove "Family-Approved" Seal for all ages.