In God We Trust
DVD Release:
April 25, 2016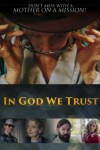 Synopsis
"In God We Trust" deals with the estranged yet comedic relationship between widow Sandralyn and her son, Ronny, a talentless actor, who no longer has time for his mother. Unfortunately, too often, parents and children lose touch, but Sandralyn isn't giving up on her son no matter how much he ignores her. After many failed attempts to get Ronny's attention, Sandralyn invites two drifters over to her house for dinner, forcing Ronny's hand. During the visit, the strangers catch light of a valuable family heirloom, and Ronny begins to sense they might not be as innocent as they appear. As the night unfolds and the days follow, true colors rise to the surface. Trusting God's plan is imperative, and a mother's resolve is nothing to take lightly.
Dove Review
"In God We Trust" is a unique and powerful story about a mother who goes to great lengths to have a relationship with her adult son, who, for the most part, ignores her and acts unhappy when he is with her. "When he was a boy, he thought I walked on water," she tells someone, "and now he doesn't want to even be with me." Her son, Ronny, was close to his father, who passed away, but, as his mother tells him in a touching scene, "I knew your father was your favorite, but you were always my favorite." The film opens up with some performers who rap and act out scenes, and for a few moments, the viewer may wonder what's happening. Then the film nicely shifts into the story about the mother, who was at this drama class herself and for a purpose we later learn about in the film.
"In God We Trust" is a compelling movie about a parent's love for a child, even as he's grown up. We are happy to award this thought-provoking drama our Dove "Family-Approved" Seal for ages 12-plus. This film shows what breakthroughs can happen when a person refuses to give up on a dream.
Content Description
Sex:
A couple is invited to spend a night at a woman's home, and the film isn't clear on whether the two are married, but nothing sexual happens between them.
Info
Company:
SkipStone Pictures
Producer:
Jo Haskin
, Martin Noufer Kevin Haskin
Reviewer:
Edwin L Carpenter