When Calls the Heart: Troubled Hearts
DVD Release:
April 19, 2016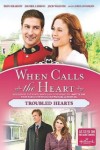 Synopsis
This series is inspired by the book, "When Calls The Heart," by Janette Oke. Big revelations are in store for Hope Valley in this installment of the family-friendly series, "When Calls the Heart."
In this installment, Elizabeth moves into her own row house, dismaying Jack, who has been planning to build a new home for the both of them. Rosemary discovers that Lee has taken out a loan and worries that he is having financial difficulties. Jesse, the young drifter who works in Abigail's kitchen, has information that could ruin Pastor Frank's good standing in Hope Valley.
Dove Review
"When Calls the Heart: Troubled Hearts" is the inspired continuation of season three of the popular Hallmark Channel series. In these two episodes, Elizabeth moves into her own home and enjoys her independence while her relationship with Jack blossoms. Rosemary worries about Lee's sawmill business, and a stranger from his past might jeopardize Pastor Frank's relationship with the people of Hope Valley, including Abigail.
Clara learns about Jesse and is not happy. The gang threatens to kill Jesse, and both the girls and boys go camping, with Jack in charge of the boys and Elizabeth guiding the girls. The themes of these episodes include trust, forgiveness and kindness. We are delighted to award this series our Dove "Family-Approved" Seal for all ages.
Info
Reviewer:
Edwin L Carpenter