His Girl Friday
DVD Release:
November 21, 2000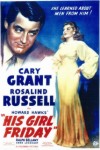 Synopsis
When newspaper editor Walter Burns (Cary Grant) finds out that his ex-wife "Hildy" Johnson (Rosalind Russell) is planning to marry another man and move away from him, he plays hilarious tricks to stop it from happening.
Dove Review
Cary Grant and Rosalind Russell star is this classic, comical and dramatic movie about a newspaper editor and a reporter who just happens to be the editor's ex-wife.
In this 1940s movie, Hildy goes to tell her ex about her pending marriage, but the editor tricks her into writing one last article about a man who is going to be hung for accidentally killing a policeman. However, while at the courthouse jail, the unexpected happens and a jail break occurs. The editor and his ex-wife reporter team up for the big story, along with Earl, the escapee. With hilarious banter, these great actors entertain audiences in the classic black and white film of the times. We award "His Girl Friday" the Dove "Family-Approved" Seal for ages 12-plus.
Content Description
Violence:
Discussion regarding a man being executed and a man killing a police officer; mayor cons another man into not delivering the reprieve for the escapee; sounds of guns shooting; man being wrongly arrested; woman jumps out of a window
Violence:
Discussion regarding a man being executed and a man killing a police officer; mayor cons another man into not delivering the reprieve for the escapee; sounds of guns shooting; man being wrongly arrested; woman jumps out of a window