Gulliver's Travels
DVD Release:
June 9, 2009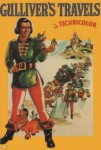 Synopsis
After a ship wreck, Lemuel Gulliver washes ashore and finds himself in the land of Lilliput. He attempts to bring peace and prevent war between Lilliput and its rival Blefiscu. A budding romance blossoms between the prince and princess of the kingdom.
Dove Review
Based on Jonathan Swift's immortal tale, "Gulliver's Travels" retells the adventures of a captain of a ship who gets lost during a storm, only to wash up on an island of people who are much smaller then he is.
This animated movie has captivated many generations. When the small kingdom of Lilliput discovers a giant, Gulliver, they are scared at first but soon become friends with the newcomer. Gulliver soon finds out that he needs to lend a hand to straighten out some minor problems between the Lilliputians and their rival, Blefiscu. One of the most adventurous, animated films for young and old alike, "Gulliver's Travels" is truly a classic of its time. We are proud to award it the Dove Family Seal for all ages.