Teenage Mutant Ninja Turtles: Out of the Shadows
Theatrical Release:
June 3, 2016
DVD Release:
September 20, 2016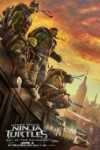 Synopsis
As Shredder joins forces with mad scientist Baxter Stockman and henchmen Bebop and Rocksteady to take over the world, the Turtles must confront an even greater nemesis: the notorious Krang.
Dove Review
The Turtles are back to save New York once again from the evil Shredder but this time the evil man has accomplices from prison and a creepy robot character from a portal that wants to take over the world. Teenage Mutant Ninja Turtles Leonardo, Donatello, Raphael and Michelangelo, along with their friends April and Vernon plus a new helper Casey, a guard from the truck that was transporting Shredder, are in for an adventure that they never expected.
The group has to come together to save New York from a new threat. This one may be more difficult then the last, because they are not dealing with just Shredder. Plus their is the factor that the turtles so far can not be seen in the daytime. There also is a little jealousy going on among the turtle brothers. Can they face this like the Ninja's they are or must something change. Just like past Teenage Ninja Mutant Turtles movies, it is good facing evil. But it also is a story of the brothers and the things they face within themselves that highlight the importance of teamwork. This one may be frightening for younger audience plus I must warn the viewers that their is some language. So that being said we award the Dove Family Approved Seal for ages 12+ to "Teenage Mutant Ninja Turtles: Out of the Shadows."
Content Description
Violence:
Many fight scenes; explosions and vehicle crashes; plane crashes; convicts escape custody of police; shooting spitwades at man; basketball player slips on pizza;
Sex:
Song that has sexual innuendos; when criminals are changed into mutant creatures they look into pants and are impressed with what they see.
Violence:
Many fight scenes; explosions and vehicle crashes; plane crashes; convicts escape custody of police; shooting spitwades at man; basketball player slips on pizza;
Nudity:
Young women wear midriff-revealing tops; criminals changed into a rhino and warthog are shirtless and look into pants and are impressed with what they see; mild cleavage;