Whisper Jesus (Book)
Book Release:
June 1, 2012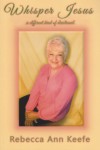 Synopsis
What is "Whisper Jesus" all about? It is a collection of sacred poems on biblical characters and circumstances, based entirely on Scripture, that encourages the reader to stop and simply whisper the name of Jesus.
Dove Review
"Whisper Jesus" is a book of poems and devotions, written by Rebecca Ann Keefe. It is very inspirational, reverent and encouraging.
For example, in the devotion titled "Free Indeed," Rebecca writes about God forgetting about our sins after He has forgiven us. She also includes Scripture verses. This truth gives us great freedom. She also reminds the reader to forgive others, as well. God chooses not to remember, and we should do the same. She writes that we should simply whisper, "Jesus, thank you!" She uses Jeremiah 31:34, which says that God remembers our sins no more. She adds her poem, "Free Indeed," with the devotion, and she writes of the covenants of God with Abraham, David, and us.
This 283-page book includes devotions with titles such as "Button your lip!" and "Love Revealed." Her topics range from how we can give up struggles to God, which she writes about in "Palms Up," to how we would live in our home if we pictured Jesus as our guest, sitting across the table from us.
We are pleased to present this book our "Faith-Friendly" Seal for all ages, although it is not targeted toward very young readers. In the devotion, "God, Do You Care?" she addresses God in the midst of trials, and it will encourage every reader –as will this entire book. We present it five Doves, and that's our highest rating. Read it, and be encouraged and blessed!
Info
Company:
Abba Father Media, Inc.
Reviewer:
Edwin L. Carpenter