Arlo the Burping Pig
DVD Release:
November 15, 2016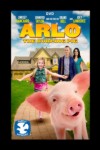 Synopsis
The five-member Rose family has just relocated from Boston to sunny southern California. While the Roses are excited about the move, the change of scenery is particularly hard on seven-year-old Talia. Talia gets bullied at school while also having difficulty making friends. Fortunately, with Talia's luck, she finds a playful teacup pig, with a very serious burping problem, in her backyard! Talia's new relationship with her pig, Arlo, makes her happy and helps her stand up to her bully. However, fearing that her parents will not accept the pig, Talia tries to hide Arlo from her family.
Dove Review
When the Rose family move to California, their three girls are not happy. Making new friends and going to a new school is not easy for any of them, especially for Talia, who is the youngest at seven years old.
However, school is the least of their problems, because little do they know that the vase they find in the flower bed is not what they think it is. Also, Talia finds a little pig that has one problem: he burps loudly. She tries to hide her new little friend, whom she names Arlo, which causes hilarity along the way. "Arlo the Burping Pig" is a comical movie that the whole family can enjoy. It features lessons about standing up for yourself, helping your siblings, and being yourself. We are proud to award this movie with the Dove "Family Approved" Seal for all ages.