To Joey, with Love
Theatrical Release:
September 20, 2016
DVD Release:
December 20, 2016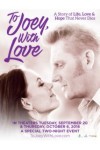 Synopsis
Limited Theatrical Release – Husband-and-wife singing duo Joey+Rory wanted more to life … so they chose less. In preparation for the birth of their child, the couple simplified their lives by putting their music career aside and staying at home, planting roots deep in the soil of their small farm, and the community they loved.
They believed God would give them a great story … and He did.
A special two-night event in select theaters Tuesday, September 20 and Thursday, October 6, experience the incredible true story of Joey and Rory Feek in the poignant new film TO JOEY, WITH LOVE. Intimately filmed by the couple over two and a half years, the movie documents the stirring journey of the 2010 Academy of Country Music Top New Vocal Duo.
TO JOEY, WITH LOVE takes moviegoers from the birth of their daughter Indiana, born with Down Syndrome, through Joey's struggle with and ultimate surrender to cancer—all amidst their never-ending hope in something far greater. God gave Joey+Rory a love story for the ages, one that is sure to inspire hope and faith in all who experience it.
Dove Review
"To Joey, with Love" is both a heart-wrenching and inspiring movie, based on a true story. It focuses on the trials this couple goes through when Joey, Rory's wife, has a Down's Syndrome baby, and then later fights cancer in her own body. Joey and Rory's love for their child, Indiana, and their unrelenting faith in God shines in this story. The entire family shaves their head to match Joey when she loses her hair, due to chemo.
The singing couple, Joey + Rory, take time away from their singing career to have their baby, and their story is unforgettable. Due to the themes of love, devotion to God, and the couple's devotion to each other and to their child, we are pleased to award this film our "Faith-Friendly" Seal for ages 12 and older. You will never forget watching "To Joey, with Love."
Content Description
Nudity:
Woman's pregnant stomach is shown in several scenes; baby lies in mother's breast, but the scene is not graphic, because her breasts are covered; cleavage; baby's nude rear is visible; men and women wear bathing suits at beach.
Info
Starring:
Joey Feek
, Rory Feek and their daughter Indiana Feek
Reviewer:
Edwin L. Carpenter