Why Grace
DVD Release:
September 2, 2016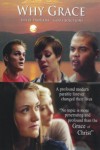 Synopsis
Emily. Jason. Julia. Austin. Her mother is dead. He knows he shouldn't look at porn. She's been abused. He is gripped with addiction. But they all need one thing right now — God's solutions to their problems. They need the Savior. They need his grace.
This drama is about realities all of us face every day. Each of us has a choice. We can ignore the grace of Christ, muddle through each day, live our lives as if He never lived His, or we can choose to allow God's grace to heal us –to overcome our problems, our sins, our sorrows. Emily, Jason, Julia — all of them — participate in a profound modern parable that forever changes their lives. Experience what happens to them. You will not be the same.
Dove Review
"Why Grace?" is a powerfully creative and unique film. It will give the viewer a fresh and contemporary look into the grace of God and what Christ did for mankind at Calvary. Dr. Hall (Ben Hopkin) brings the Bible to life for his class. He not only teaches about the Parable of the Sower, while handing out samples of wheat to each student as he does, but he mentions the kind of soil that seeds are dropped into and its importance. He makes the point that what the seed does depends on the soil, whether it's good ground or not.
We see the students grappling with various life problems, such as a girl visiting her mother's grave with flowers, another student struggling with porn (he is only shown looking at his computer), and another who is in a wheelchair. But one day, Dr. Hall gives a powerful devotion when he brings pastries for the class, but the only way they can receive them is if Josh (Zac Nash) earns the gift for them. They cannot help him or receive the gift any other way. What Josh does is amazing. It brings some of the students to tears. The viewer will not forget this compelling and gripping drama.
"Why Grace?" is awarded our "Faith-Friendly" Seal for all ages. We wish to note it is not intended for very young viewers. The grace of God, His gift of salvation, is strongly presented in a way that the viewer will not soon forget. This is a great Christian education tool, too!
Content Description
Violence:
A couple is shown (not heard) briefly arguing, and the woman shoves an object across the counter.
Sex:
A young man watches porn on a computer, but the act is hinted at, and nothing is shown on his screen.
Language:
A student says that a practical lesson another student is making in Bible class is "stupid."
Violence:
A couple is shown (not heard) briefly arguing, and the woman shoves an object across the counter.
Other:
A young man is skeptical in a Bible class and spits on a student's back, and that student is earning a free gift for each class member; a student focuses on the negative and says no one has control over anything; a student mentions that life is unfair; a girl weeps at her mother's grave; another girl weeps while speaking to a counselor; a young man reads, "Jesus wept," from the Bible for his devotion, thinking he's funny, because he chose the shortest verse in the Bible; a student is disrespectful to the professor, but his girlfriend stops him.
Info
Company:
Direction Films, Inc.
Reviewer:
Edwin L Carpenter