The Funeral Guest
DVD Release:
January 9, 2017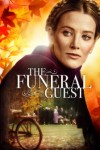 Synopsis
Most of us go to funerals because we have to. Emily goes because she wants to. Socially awkward and lonely, the emotional rawness of a funeral allows her to feel a connection to other people, even when they're complete strangers. When she crashes April Loren's funeral, she's mistaken for April's long-estranged sister. Drawn in by the Loren family's warmth and a burgeoning romance with April's brother-in-law, Drew, Emily continues to masquerade as April's sister, getting ever more deeply entrenched in her lies and her feelings for Drew. But there's only so long she can maintain her charade and, when everything about you is a lie, the truth hurts.
Dove Review
"The Funeral Guest" is about a lonely woman named Emily, who attends funerals so she can be around others. She attempts to comfort people and, at one particular funeral, she is mistaken for a dead woman's sister. She is welcomed into the family as "Katie" and begins attending dinners and birthday parties. After a while she gets in really deep water when a man in the family falls for her. She doesn't know how to tell him she's not actually related to the deceased woman, but she is eventually caught in the lie. Will the man, who was interested in her, forgive her? Or will he move on in anger?
The movie features the theme of the importance of filling loneliness with people in your life. It is a quality film and we are pleased to award it our Dove "Family-Approved" Seal for ages twelve-plus.
Content Description
Drugs:
A grandmother says the only good thing about a funeral is the food and the booze; she also mentions taking "shots" of alcohol; drinking of beer and wine in several scenes; prescription pill taken for epilepsy.
Info
Company:
Bridgestone Multimedia Group
Reviewer:
Edwin L Carpenter