Beyond Pain: Job, Jesus, and Joy (Book)
Book Release:
July 26, 2011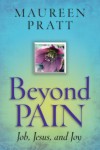 Synopsis
Ongoing pain can crush hopes, relationships, and even faith—if we allow its heavy burden to dominate our thoughts and prayers. But if we look beyond the constraints it poses, pain can be a catalyst for many good things. "Beyond Pain: Job, Jesus, and Joy" presents the story of Job and the example of Jesus' life and death as ways to rethink our own pain within the context of God's purpose and promise of eternal life. A Scripture-based perspective on devastating pain and its unexpectedly uplifting purpose to deepen faith and joy, the book includes small group study questions and suggestions for personal journaling and further reflection.
Dove Review
I highly recommend Maureen Pratt's book "Beyond Pain: Job, Jesus and Joy" for those who suffer from chronic illness and/or pain. In three easy-to-read sections, the author delves into the things we can learn from studying the suffering of both Jesus and Job. She also offers practical advice and strategies to help believers find joy in the midst of life's difficulties.
Pratt shares fresh insights from Scripture while retaining a traditional biblical stance. She also reveals her own struggles with pain and illness, which makes her advice more relatable. The book includes sidebars with questions and activities to prompt readers into thinking deeply about Scriptural themes and application. Those takeaways seem especially important in light of the volume's topic. "Beyond Pain" is written from a Catholic perspective, but the book would benefit readers from a wide variety of Christian backgrounds. Its inspirational yet realistic tone encouraged me, because I also deal with chronic pain and illness. I believe "Beyond Pain" would also find a ready audience in people who care for loved ones with chronic conditions.
Info
Company:
Twenty-Third Publications