Strawberry Shortcake: Berry Hi-Tech Fashion
DVD Release:
October 18, 2016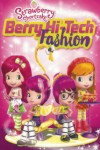 Synopsis
Strawberry Shortcake and her friends show off their fashionista flair in three sweet adventures about trying their best. When their favorite "Berrynet" show announces a fashion tech contest, the girls put their heads together to show off their sensational style! But with the pals busy with their designs, there's "Berry Double Trouble" as two bickering twins, Sweet and Sour Grapes, try to keep the café running smoothly. The arrival of Strawberry's traveling cousin, Apple Dumplin', also throws things off balance as everyone works to make their unexpected guest feel welcome in "Berry Bitty Adventurer." And as they prepare to unveil their berryriffic work, a little "High Tech Drama" threatens to unravel it all. Good thing these berry best friends know that sweet rewards come to those who work together!
Dove Review
Strawberry and her friends are back with a wonderful time that is '"berry" entertaining. As friends Lemon and Raspberry enter a contest with some exciting fashion, Strawberry has to work at her two jobs running the marketplace and the café. But the two girls needs Strawberry's help, so they hire twins, Sweet and Sour, to run the café. The sisters do not get along very well and to top everything off Strawberry's cousin Apple Dumplin' comes to visit.
As the contest comes closer, the gang has many problems trying to tape their fashion show: the power keeps going out, the sisters are constantly bickering, and Apple thinks she causes more problems. Will the show ever go on? There are many great lessons in this collection of Strawberry tales—working together, friendship, helping others and trying to get along, plus being needed and loved. It is truly entertaining for everyone in a very berry way. We are proud to award the Dove Family-Approved Seal for all ages to "Strawberry Shortcake: Berry Hi-Tech Fashion."
Info
Company:
20th Century Fox