Easter Bunny Adventure
DVD Release:
February 17, 2017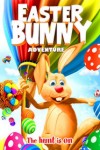 Synopsis
This Easter – Hitch a ride with the Easter Bunny as he goes on an unforgettable adventure! It's the biggest Easter egg hunt ever and Benny the Easter Bunny can't do it alone. He teams up with Wilma the chicken as they hop in a giant hot air balloon and journey to Fairy Tale Valley in search of the most amazing Easter Egg ever!
Dove Review
As Benny the Easter Bunny and Wilma the chicken search for the special Easter egg that can grant one wish, they meet up with a variety of animals in the valley. Each one is asked to tell a story, and each story has a very special message.
The duo hears from Daisy the donkey, Donna the cow, Betty the owl Annie the honey bee and many more on their search through Fairy Tale Valley. The stories they listen to teach important values such as kindness is never wasted, wicked deeds will not stay hidden, others may be worse off than you, and don't argue with temptation. This fun trip of the Easter Bunny and his friend is an enjoyable collection of stories with valuable lessons for everyone to enjoy. It may lead to great discussions about the important morals that it teaches. We award the Dove Family-Approved Seal for all ages to this insightful adventure.
Info
Company:
Ruthless Studios
Starring:
Bill Oberst Jr, William Mcnamara, Danni Dandan Gadigan,
KJ Schrock