James And The Giant Peach
Theatrical Release:
April 18, 1996
DVD Release:
April 18, 1996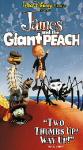 Synopsis
The classic 1961 story by Roald Dahl about a young boy who, by burrowing inside a magical giant peach, escapes from the tyranny of his aunts and travels to New York with his newfound insect friends.
Dove Review
An unsettling fairy tale based on the Ronald Dahl Children's book, produced by the curious Tim Burton (Beetlejuice, Batman Returns, Nightmare Before Christmas). The gentile childhood of young James is instantly snatched away, and he is forced to live with his sadistic aunt, who make Cinderella's relatives look angelic. His life of abuse turns a corner, however, when a strange man encounters the kind boy and gives him a bag of magical glowing worms. This sorcery turns a peach into an enormous sailing balloon, complete with mammoth insects who befriend the lad. They set sail for the promised land (New York City, yeah, right) having several ghoulish and often bizarre adventures, as well as discovering the sanctity of friendship and family love along the way. Very inventive, but Burton's freakish film may be disturbing to little ones. And what is the profane expression "G—Almighty" doing in a children's film ?
Content Description
1 expletive; 1 profanity; several scary scenes, including a giant Rhino coming out of a thunder cloud and threatening the protagonists - underscored with loud effects and unnerving music; the child's parents are instantly taken away, their whereabouts never explained; the child has a nightmare, and indeed, lives in a nightmare
Info
Company:
Buena Vista Home Video
Reviewer:
Phil Boatwright