The Year Santa Lost His List (Illustrated)
Theatrical Release:
November 27, 2016
Book Release:
November 27, 2016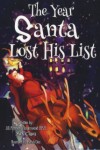 Synopsis
With the list in hand, Santa boarded his sleigh on Christmas Eve. Things were going well until a huge gust of wind blew this list right out of Santa's hand. Santa still had gifts to deliver but without his list, he had no idea which gift to deliver to which child.
He brought ice skates to Julie, who always wanted to be an artist, and Noah, whose only interest was baseball, received a guitar and microphone. Santa was worried that he may not have gotten the gifts delivered to the right children, but he didn't need to worry. Children will discover, along with Santa, the magic that took place The Year Santa Lost His List!
Dove Review
Santa relies on his list every year. But before he had an electronic list, he had to decide the old-fashioned way what gifts to give to the children when the list was lost. Well, there was a little mix-up this particular year, and although the children did not get what they wanted, it was a surprising outcome. Sometimes things can happen and change children's likes and interests.
This is a wonderful illustrated story of exploring new horizons after a simple mistake is made and makes a charming Christmas story for everyone. We are proud to award the Dove Family-Approved Seal for all ages to "The Year Santa Lost His List."
Info
Starring:
Illustrated by Kerah Diez