Gigi: Season 1
DVD Release:
March 31, 2009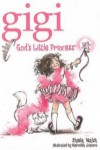 Synopsis
A little girl just knew she was a princess. She had known it from birth! But where were the castle and royal jewels? A wonderful discovery for little princesses everywhere, Gigi, God's little princess, will subtly teach girls of their importance.
Dove Review
Gigi is a charming young girl, with many of the same situations young children go though in their lives. School, parties, best friends and family are the some of the topics in this series along with God's love and forgiveness. With each story, a Bible verse is told at the end to help with the lessons taught in Gigi's adventure.
Season 1 of Gigi is a wonderful collection for the family. It encourages all—young and old—to trust in God and pray for guidance in their lives no matter what. It also teaches everyone, not just girls, how important they are. We award the Dove Faith-Friendly Seal for all ages to "Gigi: Season 1".