Beat the Devil
DVD Release:
March 16, 2016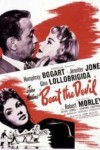 Synopsis
A quartet of international crooks—Peterson, O'Hara, Ross and Ravello—is stranded in Italy while their steamer is being repaired. With them are the Dannreuthers. The six are headed for Africa, presumably to sell vacuum cleaners but actually to buy land supposedly loaded with uranium.
Dove Review
"Beat the Devil" is a suspenseful drama featuring the legendary Humphrey Bogart and Peter Lorre. As six characters wait in Italy while a steamer is being fixed, they plot a trip to Africa to find uranium and load their pockets with cash.
There is tension between the characters, and several do not trust one another. The action features a ship in peril, and we learn the captain is up to something. Bogart plays Billy Dannreuther and Gina Lollobrigida plays his wife Maria. They are not exactly devoted to one another. Will the group make it to Africa? Do they strike it rich? You will have to watch to find out.
We are presenting the movie our Dove Family-Approved Seal for ages 12-plus. "Beat the Devil" is a classic.
Content Description
Sex:
Married man kisses a married woman, and wife kisses a married man, but nothing further happens.
Language:
Pi**-1; shut up-2; shut your trap-1; I hate you-1; at man (insult)-1; fool-2; I'll kill all of you-1; scum-1
Drugs:
Smoking cigarettes in several scenes; a man smokes a water pipe; drinking alcohol in several scenes; the drinking of champagne.
Info
Company:
Film Detective, LLC
Reviewer:
Edwin L Carpenter