This is the Army
DVD Release:
July 6, 2010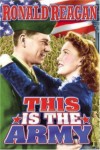 Synopsis
In WWI, dancer Jerry Jones stages an all-soldier show on Broadway, called Yip Yip Yaphank. Wounded in the war, he becomes a producer. Years later, during WWII, his son Johnny gets the order to stage a new all-soldier show.
Dove Review
This film is one from 1943 with a cast of stars. Jerry Jones and his friends performed a show for the soldiers and were shipped out directly from the stage to the fighting overseas. Now the war is over—the one they called the war of all wars—and the gang gets together and reminisces about the show. The thing they have in common is that their sons are now enlisted in a new war, WWII. So they have decided to bring the production back to the new generation with "In the Army Now."
There is a small story in this film but it is mostly a musical stage show for the country at a time when a new war is at hand. Performing to audiences in the country and also for their boss, the president. It also portrays the things that happens to families that have lost loved ones in the war or who were injured in the war. This is a classic for all time, but keep in mind that times were different when this movie was produced. In one scene, there are men with black faces performing a musical number—a situation that was accepted then, but would be offensive to some now—and scenes where men are dressed like woman for the production on stage. With that caveat, "In the Army Now" is awarded the Dove Family-Approved Seal for all ages.
Info
Company:
Film Detective, LLC