A Walk In The Clouds
Theatrical Release:
December 31, 1995
DVD Release:
January 14, 2003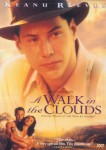 Synopsis
This beautifully photographed film captures the romance and charm of 1940s movies. Paul Sutton (Keanu Reeves), a young soldier, returns to New York after four years of fighting in World War II, anxious to settle down with his wife. He discovers his self-absorbed bride has never bothered to read his letters. Disappointed, Paul decides he must go alone to California to find work and to sort out his feelings. Along the way, he meets Victoria Aragon (Aitana Sanchez-Gijon), a distressed young woman who must face her strict father and admit that she is unmarried and pregnant. The sympathetic Paul agrees to pose as her husband, then leave the next day. What the orphaned Paul finds at Victoria's home is everything he ever wanted, a loving family. He even understands her father's fury that Victoria has brought a total stranger into his aristocratic, wealthy Mexican family who owns one of the biggest vineyards in California. Circumstances delay Paul's departure, and he and Victoria fall in love. The gorgeous vineyard setting and touching love story make A WALK IN THE CLOUDS the stuff dreams are made of.
Dove Review
True to the era, the story recognizes that sex outside of marriage is dishonorable and that family love is more important than material wealth. Paul refuses to become involved with Victoria because he is still legally a married man. Victoria's family prepares a bedroom for the couple, thinking they are married. But Paul sleeps on the floor one night and in a chair the next night. They do have one passionate embrace, but his strong sense of honor prevents Paul from taking advantage of Victoria. Free of degrading content, Paul relives some heart-breaking situations on the battlefield (through flashbacks) of bodies of fallen comrades and children killed by bombs. The only other violence is a raging fire that destroys the vineyard, although no one suffers serious injury. The adult subject matter is not appropriate for children, but this wholesome love story is acceptable for mature audiences. Dove awards this film the Dove "Family Approved" Seal for 12+.
Info
Company:
20th Century Fox Home Ent.