Coming Home
DVD Release:
April 1, 2017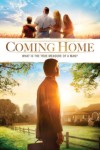 Synopsis
John is a hardworking man that has focused more on his career than his family. A devastating event leads him back to his hometown, where he will come face to face with his choices and their impact on his family. This heartfelt story demonstrates the incredible power of prayer and how God's love can overcome all.
Dove Review
"Coming Home" is an inspirational film about a spiritual journey. John has lost his way. As a boy, he longed for his workaholic (and alcoholic) dad to be home with him at Christmastime. But sometime later the physical abuse he suffered became too much. Now, years later, John is a married, successful doctor with "miracle hands" that is in popular demand. He didn't return his father's phone calls from the last three years; now it is too late. His dad has died. John returns home and has a lot of things in his life in need of repair, including his marriage due to the wife he has ignored because of his work, as well as his children and his brother. His brother James remained in the old hometown to run his father's western store, and John has put pressure on him to pay back a loan he gave him. John and James also have an adopted brother, Matt, a priest, who is trying to reach the spiritual light that once was in John's heart. When John views a videotape his father left him before he died, the hard shell begins to soften.
We are more than happy to award this film our Faith Friendly Seal for ages twelve-plus. Christ is preached and it is clear that God is the only one that can renew our hopes!
Content Description
Other:
Saint Joseph is mentioned a lot and John's dad shares how he helped him but God and Christ are the main focus; tension between characters; in the beginning a man wants nothing to do with God and doesn't like hearing about God and prayer; man is prideful and refers to himself as the best physician; kids are upset with dad and one of them tells him he is non-existent in their lives; a man looks at the Bible and, referring to his Dad, says, "You couldn't even save him, could you?" But his Dad did trust God; a mother tells her son, regarding his dad, "He had his share of demons, John. We all do." Man says priest is "preachy".
Info
Company:
Bridgestone Multimedia Group
Reviewer:
Edwin L Carpenter