Tim Timmerman, Hope of America
Theatrical Release:
March 3, 2017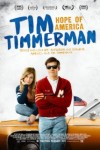 Synopsis
(LIMITED THEATRICAL RELEASE) Mount Vista High's student-body president Tim Timmerman (Eddie Perino, Disney's LAB RATS) — class of 1994 — has aspirations of attending Yale and becoming a famous politician. Once elected as president, however, Tim has zero interest in doing any actual work; he simply coasts, believing that his student-body president title rubber stamps his future dreams. When Tim's laziness and incompetence endanger his dreams, he realizes that a deaf student, Sydney (Chelsea Maidhof), could actually provide the easiest route to glory for Tim: her father's position as a U.S. senator. Nothing will stop Tim from reaching the top…except himself.
Dove Review
"Tim Timmerman, Hope of America" is a romp through the politics of high school. Our main man Tim (Eddie Perino) is a master showman who knows how to work the crowd but doesn't want to work on much else. His integrity is nil, and his selfishness dominates his actions. But everything starts to change when a uniquely impressive Sydney turns his head—in more ways than one. The tension rises as Tim must confront his truths.
This is a sweet story that sparks conversation about honesty, integrity and relationships, while enjoying a well-directed cast of delightful characters. We are pleased to award this film our Dove Family-Approved Seal for ages 12-plus.
Content Description
Language:
Crap-4; sc*ewed-3; geez-1; sucks-1; da*n devil-1; da*n-1; Spanish slang for testicles-1;freakin-1.
Drugs:
A teen is about to light a marijuana cigarette, but another teen takes it from him—and then the police discover it and confiscate it.
Info
Company:
VidAngel Studios