And You Thought Your Parents Were Weird!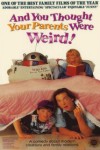 Synopsis
A loveable robot named Newman is about to take Josh and Max on the most fantastic adventure of their lives.
Dove Review
Josh and Max are inventors like their dad was. They have been trying to create a robot, but when something surprising happens, their robot literally comes alive. With mixed feeling about the event, the boys try to keep it secret until a pushy reporter lets the news out. Now everyone around wants to see their invention—including some shady men.
This is a comedy of great imagination and a slapstick relationship. Their lovable robot Newman also has their father in him, which makes the boys over-protective. It is entertaining and funny. But unfortunately, the use of a Ouija board in many scenes puts it outside our guidelines and cannot be approved.
Content Description
Violence:
Men steal robot and plans; robot hits young man in crotch; young men fight; a bowling ball drops on young man;
Sex:
Two different couples kiss; a young couple "making out" on sofa at a party; girl flirts with boy.
Violence:
Men steal robot and plans; robot hits young man in crotch; young men fight; a bowling ball drops on young man;