Ladies in Lavender
DVD Release:
February 28, 2005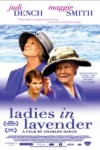 Synopsis
Two sisters befriend a mysterious foreigner who washes up on the beach of their 1930s Cornish seaside village.
Dove Review
Janet and Ursula are two aging sisters who live on the English coast. Their quiet life is changed when they find a young man washed up on shore after a storm. They take him in and nurse him back to health. Ursula, who takes an interest in the young man, discovers he is Polish, so she decides to teach him English.
His name is Andrea, who was on his way to America to start a new life. As time goes on, the sisters discover that he is a very good violinist. And Janet and Ursula are not the only ones who think this; their neighbor, whose brother is a well-known maestro, also thinks that Andrea has real talent. The sister keeps the neighbor's secret from Andrea as Ursula has grown way too fond of the young man. Judi Drench and Maggie Smith are wonderful in their roles as the spinster sisters in this heartwarming story of a secret love amidst a humanitarian effort. The Dove Family-Approved Seal for ages 12-plus is awarded to this charming classic movie.
Content Description
Drugs:
Many scenes of drinking beer and whiskey; men seen from behind urinating on a wall; young man is drunk and is seen passed out on bed; women smoking.