Possums
DVD Release:
October 1, 2002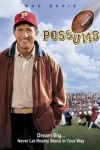 Synopsis
Will Clark loves his job as radio announcer for the local high school football team, the Nowata Possums. He loves it so much that he continues announcing even after the town decides to cancel the football program. But when his imaginary team starts to contend for the state championship, he not only must deal with the real state champs, but he must reckon with the hopes and dreams of the people of Nowata as well.
Dove Review
Mac Davis portrays the announcer, Will Clark, for the Nowata Possums who have not scored in a game in 13 years. The mayor of the town decides the field would be better as a shopping mart and closes down the football program. But that doesn't stop Will, who creates a fictitious Possum team whose "games" he announces each week and gets the entire town cheering. This team could do anything if they put their mind to it.
This is a hilarious movie that teaches kids it is not whether you win or lose but how you play the game that is important. The Possums will encourage everyone how important it is to never give up and just keep trying. This intriguing movie will have the football fans on the edge of their seat as if they were attending the game. Everyone will be entertained at this story no matter if they are sports fans or not.