Scarlett
DVD Release:
September 11, 2017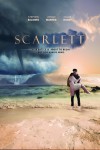 Synopsis
Scarlett is the dramatic love story of two talented architects, Chase and Scarlett. Their dreams for the future are abruptly ended when Scarlett is diagnosed with cancer. As her life ebbs away, Scarlett struggles with her faith and God's love for her. How could a loving God cut short her life and plans? Chase helps her overcome her fears and doubts as they fight the battle together. Living next door to them is a young woman named Mia who is fighting for her life and the life of her unborn child. After leaving a mental institution where she was dropped as a child, Mia fell prey to an abusive marriage. Now she has nowhere to go and no one to help. She thinks. When Chase hears the sounds of domestic violence coming from next door, he intervenes to bring help, and Mia discovers that God has heard her prayers. With a surprise twist at the end, the three lives of Scarlett, Chase and Mia intertwine and bring hope to the hopeless, peace to the battle, and beauty for ashes.
Dove Review
Four powerful stories collide in this ensemble look at the Christian faith in Josiah David Warren's "Scarlett." Chase has an architect's plans for a new church unfold before his prayerful, meaningful life. His fiance Scarlett, also an architect, realizes her dream-come-true. An aimless young woman, Mia, is stuck in an abusive relationship and with a child in a seemingly unforgiving world. A pair of guardians—parents—seeking time from their son.
Warren's film brings to us a sympathetic realization of how communities work. In so many films—both secular and non-secular moviemaking—the focal point relies greatly on the individual; so much that we as audience members are left to pick up the pieces as to whether they align with the main character or not. But not in "Scarlett." Warren realizes how Christian living is not about the few, but about the many. Warren, also starring as Chase, shepherds the film through multiple perspectives and tales that weave into a humanistic portrait of living. With so many storylines to be shared, younger or more linear-minded viewers may be confused by some of the creative flourishes in the storytelling. In a way, the film is like a puzzle that can only be unlocked by the ending. In this way, it takes on the persona of allowing God's plans to unfold. Still, "Scarlett" is uplifting in how it affirms the mysterious ways in which God works. Chase's and Scarlett's hopes for their church do not flourish and take shape the way we might expect. Mia's child experiences untraditional fatherhood, which would not have happened if she had not met Chase and Scarlett. With many characters to help paint the portrait, audiences can connect to different situations and should feel free to discuss them with family and friends. With some mature content to consider, Dove is proud to award "Scarlett" with the Seal of Approval for ages12-plus.
Content Description
Violence:
Gun use is threatened several times; character shot and wounded; character is pushed and suffers a mild head injury; brief depiction of domestic violence; aggressive and abusive behavior from a character
Violence:
Gun use is threatened several times; character shot and wounded; character is pushed and suffers a mild head injury; brief depiction of domestic violence; aggressive and abusive behavior from a character
Info
Company:
Bridgestone Multimedia Group