Swing Away
Theatrical Release:
October 13, 2017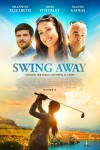 Synopsis
Following a meltdown that leads to a suspension, professional golfer Zoe Papadopoulos travels to her grandparents' village in Greece to escape the harsh spotlight of the international sports world. Between baking bread and eating baklava, she meets and mentors a 10-year-old girl who is determined–against all odds–to become the next golf sensation. Along the way, Zoe rediscovers her Greek heritage, her love of the game, and the hidden strength within herself as she inspires the townspeople in an epic showdown against a greedy American developer who has designs not only on the local course but the village as well.
Dove Review
Set in the lush tranquility which Greece is known to offer, "Swing Away" is a sweetly nostalgic look at a young woman, Zoe, and her visit to her ancestors' town after a temporary suspension from her golf career. This escape from her current pressures turns into something of a musing about the idyllic town as she becomes involved with the community and imbues her own love of golf into the heart of the town. Underlying is the film's sense of hospitality, how people combine their own passions and hopes together to make a culture of their own.
The final act of the story involves a competition for ownership of the new golf course Zoe has helped implement, settled by golfing. Money and power is on the side of the opponent. The town must become one supportive team in order to call the land their own. What makes "Swing Away" more than your average "David and Goliath" story is how the film spends time meandering around the town and welcoming us warmly to the sites and inner workings of the Greek town. In one critical scene, the townspeople gather to watch a football game in lieu of trying their hands at golf. They come to the conclusion, however, that in life we are swayed between the past and the present. Golf and football–one is not meant to be better than the other; the new and the traditional need not quarrel. Zoe is able to learn just how to balance these, both learning from the past and appreciating her present and those around her who care for her. Because of the language and use of alcohol, "Swing Away" will not be awarded a seal of approval. All the same, it is a transporting film not only meant for fans of sports movies. In fact, sports movies are never usually just about the sport, and "Swing Away" follows that tradition by becoming so much more.
Content Description
Language:
Cursing which is bleeped out; "crap"; "God-d***"; "h***"; "son of a b****" (twice); "bast***"; "bull****"; "sh**"; character says he is like a god.
Drugs:
Character smokes after a meal; instances when alcohol is seen and consumed at tables; character gets drunk; character advertises free drinks; a group gathers to watch a game and drink; woman gets accidentally drunk; man drinks alcohol in his office; man drinks while competing in a tournament; consumption usually seen in supporting characters.
Info
Company:
Freestyle Digital Media