17 Miracles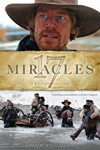 Synopsis
After being called to Utah, a party of over 500 English Mormons experience life-saving miracles
as they make a desperate trek across deadly lands to arrive in Zion.
Dove Review
17 Miracles is a partially historical account of the Willie Handcart Company's torturous journey, pulling handcarts through treacherous territory on their trek to Great Salt Lake City in 1857. The story of the Mormons' journey to their Zion is played out through the eyes of Brother Levi Savage. Having served as a sub-captain for the 1856-'57 trip, Levi recorded the severe trials endured, as well as the various miracles experienced by those traveling on conviction and devotion to church leaders who delivered messages from God. The trails were many: sickness, fatigue, bickering, cold, starvation and death; most were city folks, and none were prepared for the grueling trip.
Writer/director T.C. Christensen uses the imagery of wolves to symbolize the prevalent hovering of impending death. However, it breaks a little at the "fourth wall" when the same two wolves reappear in different locations across the country. Unfortunately, the film stops short of the complete story of the company being rescued by a team from Salt Lake City after 70 had died. So there is really no payoff scene showing the suffering faithful seeing their magnificent Zion. That said, the film surely elicits an appreciation for the sacrifices American pioneers made when settling this country. Whether Mormon, Christian or neither, families with older children will enjoy this film's recurring miracles and appreciate its tribute to those who gave all for their faith and for posterity. Because of death images, it is recommended for ages 12 and up.