Hunchback Of Notre Dame
Theatrical Release:
July 29, 1996
DVD Release:
July 29, 1996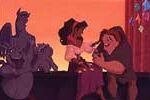 Synopsis
In Disney's 35th animated feature, the characters in Victor Hugo's 1831 novel about lonely bell-ringer Quasimodo and his adventures with the beautiful Esmerelda come vividly and musically to life–even the stone gargoyles! This updated '90s version features Quasimodo as an awkward youth, a departure from the Hugo text.
Dove Review
Loosely based on the Victor Hugo classic about the deformed bell ringer who rescues a beautiful gypsy accused of witchcraft. A remarkable piece of work. The animation, both computer and hand drawn, is so three dimensional, I swear many crowd scenes came to life. The musical score by Alan Menken (THE LITTLE MERMAID, BEAUTY and THE BEAST, ETC.) Although not his most memorable, contains several poignant pieces, including a prayerful ballad, "God Help the Outcasts". This reverent and melodious piece serves to remind us of a true spiritual supplication, one which pleads for the poor, downtrodden and unloved. Character actress Mary Wickes, who made a lifelong career playing curmudgeonous busybodies, leaves us with one last Red-letter performance – Laverne, one of the stone gargoyles who councils Quasimodo. The film-makers pay her tribute, by giving this Queen of Wisecracks the film's final bon mot. Never condescending, this family treat is filled with humor, adventure and positive messages. A winner for the entire family.
Content Description
A couple scenes may frighten very little ones if Mom or Dad aren't there to reassure; three stone gargoyles who hang from the Cathedral parapets, come to life to befriend the unloved Quasimodo - although these three are far from fearsome, some consider gargoyles satanic; one sequence has the villain singing his frustrated desire over Esmeralda in the midst of fiery flames - this may cause questions from the little ones; the three lead men are each enamored of Esmeralda, bringing sexuality into this production, but I felt it was handled tastefully; the film deals with the suppression of the masses, but is far tamer than Hugo's tragic themed book.
Info
Company:
Buena Vista Home Video
Reviewer:
Phil Boatwright