48 Christmas Wishes
DVD Release:
November 1, 2017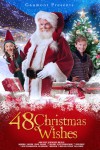 Synopsis
Holiday magic has never gleamed brighter as Santa's Elves head out on an adventure to bring every boy and girl their Christmas wish while also bringing a family back together in this heartfelt Christmas movie from Gaumont. After accidentally destroying a bag of Christmas wishes from a small town on the eve of Christmas Eve, two junior elves learn that if even one wish goes unfulfilled, Christmas could be extinguished forever. For the first time in their lives, the elves Mindy and Cam venture out of the North Pole and sneak into Minnedoza to collect the lost wishes. Along the way they enlist the help of young Blake, whose family has a difficult time celebrating Christmas since his father died. With their deadline fast approaching, Mindy and Cam have only one more wish to find…but whose could it be? It's up to Mindy and Cam to find out and save Christmas!
Dove Review
48 Christmas Wishes invites us into the warm, creative home of Santa as he and the elves prepare for another Christmas of delivering special wishes. The North Pole runs like clockwork; each elf happily assigned to an important job. In the mailroom, we find Sammy, Mindy and Cam, and although this is a vital job, Mindy can't understand why Santa placed her here, as she's an excellent builder. When she and Cam accidentally toss a sack of 48 Christmas wishes into the fire, the mood races from disengaged to desperate. The scrambling begins! Cam and Mindy pop into the small town of Menindoza, clumsily disguised as human kids, to rescue the lost wishes. This is elf-essential, because if the wishes aren't granted, belief in Christmas will fade.
Meanwhile, in Menindoza, we meet Laura and her two children, 9-year-old Blake and 13-year-old Emma. Having lost their father six years ago, the family is struggling to keep the Christmas family bond alive. As luck would have it, the first friend Cam and Mindy find is Blake, who quickly becomes their collaborating colleague. Riding on Blake's coattails, they meet kid after kid, garnering and relaying wishes back to Sammy via their super-duper handheld radios. Despite their elfish faux pas, they regain all the wishes. Except one. Time is almost up for the impish duo when Sammy reveals the final wish was Laura's: to have family harmony for Christmas. Back at the arctic workshop, Santa confirms the elves' important role in bringing Laura's family together. A cautionary note: this well-produced movie is completely secular and the true meaning of Christmas is misconstrued. However, the director successfully creates a fun, lighthearted feel that can be enjoyed by children of all ages.