Sea Monsters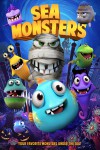 https://vimeo.com/223917043/fa14844a9a
Synopsis
When the Funniest Monster Fish in the Sea Contest is announced in the town of Schmert, Charlie and his pals Mucus and Frankfish decide to enter the competition in hopes of comedic glory. However, they have one big problem: none of them are funny! The crew's only hope is to set out on an adventure to locate a monster fish legend known as "The Masestro" who can teach them comedy and help them become the funniest fish in all of Schemrt!
Dove Review
Sea Monsters is filled with delightful characters such as Charlie, Mucas and Franfish, who decide to enter the The Funniest Monster Fish in the Sea contest, in which they have to deliver the funniest jokes. Rest assured, there are plenty of great, family-friendly jokes along the way as they prepare to enter the competition. One joke in particular, about a clam, features a funny punchline—once the character can remember it! Another about the lobster near the end of the film really earns its chuckles too!
This wonderful animated film features rich characters, vivid colors, themes of friendship and not giving up. What's not to like? We are delighted to award this movie our Dove Seal for All Ages. Sea Monsters is a good time under the sea!
Info
Company:
Ruthless Studios