The Boxcar Children: Surprise Island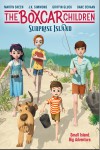 Synopsis
Four Alden children—Jessie, Henry, Violet and Benny—are given the irreplaceable experience of spending a summer of wonder and adventure on Surprise Island.
Dove Review
Surprise Island takes place during a lovely and simpler time unencumbered by the distractions and dangers of today. Based on the Boxcar Children book series mysteries by Gertrude Chandler Warner, this animated feature invites us to a colorfully peaceful place of no phones, computers or electronics of any kind. On the last day of school, Grandfather Alden presents his grandchildren with the charming gift of the family island. With only the distant watch of the island caretaker, the children happily use their resourcefulness and creativity to make a special summer life as they organize and decorate the rustic barn on the property. Fortunately, the older girl Jessie proves to be a good cook, creating soups and dishes from vegetables grown in the island's gardens.
We enjoy watching the children explore, collect shells, bask in the sun, press flowers for their makeshift museum, fly kites and try their hands at some good ol' fashioned stick-fishing, reminding us of the simpler, fuller fun in life. The children soon meet Joe, a college-aged man hired by the caretaker to do summer work on the island. Joe proves to be a diligent guide and friend to the children and a trusted confidant when the children stumble upon a dangerous cave with bones and ruins. Mystery sets in when a Native American man appears, looking for a young man fitting Joe's description. Soon we discover pieces to the puzzle. Although the appealing music and soft colors relax the viewer, even small children will be engaged, observing the Aldens use their creativity without any electronic help! This family-honoring film is a safe, vicarious summer adventure and easily earns the Dove Approval for All Ages.