To the Beat!
DVD Release:
March 13, 2018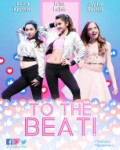 Synopsis
While twins Mia and Mackie form separate tap and jazz dance teams to compete against each other in a contest, their neighbor and nemesis, Avery, uses her charm and resources to get the upper hand in the competition.
Dove Review
A film about love, family, and following your dreams…
The Castillo family loves two things: dancing, and each other. Mackie (Laura Krystine), the effervescent free spirit, dances jazz. Her twin sister Mia (Brisa Lalich), the reasonable, logical one, loves tap. Mandy (Veronica St. Clair), their responsible and caring older sister, has put her dancing dreams on hold to support the family through the loss of their father. Along with their mother, the Castillo girls are a fun-loving family, still healing from a devastating loss. In a turn for the better, the twins are ecstatic to learn that their favorite popstar is holding a dance competition with the opportunity to appear in his new music video. The girls immediately set to work perfecting their routines, forming their teams, and navigating the trenches of social media. Meanwhile, their spoiled-rotten next-door neighbor and self-proclaimed "best dancer" Avery (Jayden Bartels) is plotting against them. Avery is indeed a fantastic dancer, but her attitude is terrible, and the competition drives all the girls into full-on tween drama mode. Not only does
To the Beat
include entertaining, beautiful dancing, catchy music and a fun plot, it also shares a dear lesson. Integrity and heart will carry you farther than talent, which is portrayed so well here in the case of Avery. Although she's a very talented dancer, her poor behavior is ultimately her undoing, while the twins's honesty and passion shines through. We also see the subplot of the family's rock, Mandy, as she confronts her fears and finds the courage to chase her dreams. The characters and relationships in the film are a little underdeveloped, but they provide beautiful real moments: a sister's sacrifice, a mother's encouragement, the bonds of sisterhood.
To The Beat
is fun to watch, features cool dance routines, plenty of tween drama, good pop music, special guest stars and lots of love. On top of that, it's virtually squeaky clean content-wise, (please see the content descriptions below). Due to some of the wardrobe choices in the film, we are pleased to award
To The Beat
the Dove Seal of Approval for Ages 12+.
Content Description
Integrity:
Friends band together in the midst of stiff competition to win a dance competition fairly; an older sister sacrifices for her family.
Nudity:
Dancers wear outfits that expose the midriff, some cleavage; short shorts, leotards & sports bras are seen throughout the film (non-sexual).