Christmas Dress
DVD Release:
October 1, 2018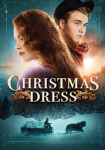 Synopsis
It's Christmas Eve, and Leland Jeppson's hope is gone. Struggling to get by in their rustic homestead, he had at least wanted to give his family a special Christmas. But with a blizzard blowing in and the train bearing their gifts nowhere in sight, it seems Christmas is just one more thing they'll have to do without. But as dusk falls, the Jeppson's' packages unexpectedly arrive at the post office in the not-so-nearby town. Half-blinded postman George Schow is hesitant to brave the storm, but his son, Sidney, will stop at nothing to bring Christmas to the Jeppsons—and ask their daughter, Ellen, to the New Year's Eve dance. Now it's up to father and son to battle fierce elements in an attempt to deliver a Christmas miracle. Don't miss this heartwarming reminder that while God helps those who help themselves, sometimes He does so through others.
Dove Review
Based on a true story, Christmas Dress is a hope-filled short film, set in a bygone era about a hard-working family struggling through a harsh winter. With scarce resources and tough times, the family fears they will not only have no presents on Christmas day, but no food either. Diligently working and ever optimistic, the mother makes the best of what they have, encouraging her children and husband and pointing them back to the Lord for strength. The family longs to hear news of the supply crates they are expecting from a relative, but as Christmas approaches, their faith begins to dwindle. Through a heroic display, the family's prayers are answered with more than they could've imagined. A story of unabashed hope and elation, Christmas Dress is a heartwarming example of prayers answered, with a strong faith message throughout.
Christmas Dress
is soft and simple, with uncomplicated storytelling and a clear, inspiring message. Not only is it perfect for watching with family around the holidays, but it would be a great illustration to accompany a bible lesson, prayer meeting or Sunday school class. We are pleased to award the Dove Seal of Approval for All Ages to
Christmas Dress
.
Info
Company:
Bridgestone Multimedia Group