Dance!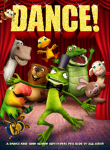 Synopsis
Join Kilbit and his friends as they dance to kids' favorite sing-a-longs like "Old McDonald," "She'll Be Coming 'Round the Mountain," and "Twinkle Twinkle Little Star." Kids of all ages will want to dance along and have fun as they watch beavers, frogs, bees, bunnies, and other amazing creatures show off their dance skills.
Dove Review
It's time to put on your boogie shoes! Get ready to tap your toes, sway, get in motion, and use up your energies! This energetic animated film is all about dancing. Featuring a lot of songs and great characters, it is for your kids and the kid in you!
You will be introduced to wonderful characters such as Benny Horse, Gary Gator, and Kilbit the Frog. They dance to very familiar songs like Old McDonald and She'll Be Coming 'Round the Mountain. You will be surprised at how many dances there really are. Each character utilizes a unique dance. Various music styles are featured including Spanish-style music.
The film features an assortment of vivid colors as Buzzy Bee dances up a storm, and Mandy Mandarin Duck dances with a fantastic background of a star and lots of balloons. Even Buns the Dancing Burger shows up, and the viewer is warned, "Don't slip on the mustard!" A dancing Teddy Bear sings "He's Got the Whole World in His Hands" and Peter Pizza dances to a tune called the "Pepperoni!"
K.J. Shrock is awesome at performing various voices, including Kilbit the Frog and others. This delightful and fun-filled video is sure to please. We are happy enough to do a jig and to award it our Dove Seal for All Ages. Keep your fingers snapping and your hands clapping. It's time to put on your dancing shoes!