Horseplay 2: Black Beauty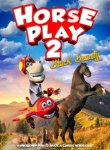 Synopsis
Scout the horse and his airplane buddy Axle are the super-duper storytelling duo renown the world over for their amazing tales. Listen as they tell the magical classic tale of Black Beauty, a novel that has inspired generations of kids and teens alike on the importance of animal welfare, love and kindness towards all beings in. Horseplay 2: Black Beauty brings back all your favorite characters — Black Beauty, Merrylegs and Squire Gordon, in this 'Videobook' reading of Anna Sewell's famous classic. Join Horseplay for a ride of a lifetime!
Dove Review
The children's show, Horseplay 2, features two word-hunting characters searching the world for great stories to bring children. In this episode, the talking horse and airplane team find Rita the owl to tell us the classic story of Black Beauty by Anna Sewell. Not veering from the original book, the owl presents in audio Black Beauty as a very young colt under the care of his nurturing mother. His joyous early days give way to his exposure to the outside world, cruel and sad at times. And after a stretch of life dictated by harsh circumstances, Black Beauty is returned to a happy, peaceful retirement.
The problem with this video is finding its audience. This becomes apparent when a little plane with a face resembling Thomas the Tank Engine's, flown by a purple horse, introduces the storyteller, a wise old owl, who narrates the entire 1877 British text in British dialect. To confuse matters more, the "visuals" are a series of plant life/landscape screensavers. No Black Beauty here, there, or anywhere! Because this video isn't really a video, it would be disingenuous to recommend it to families seeking video entertainment. (Though it could provide audio entertainment similar to recorded books.) For that small audience, the Dove All Ages Award would be appropriate for
Horseplay 2: Black Beauty
.
Info
Company:
WowNow Entertainment
Industry Rating:
Not Rated