Christmas Wander
DVD Release:
December 8, 2017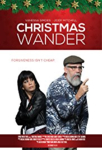 Synopsis
A tough-as-nails bar owner must go on a road trip with her estranged father, an ex-con with Alzheimer's, who is the only one who can save her business.
Dove Review
Amelia "Amy" Pittman is a bitter, angry, washed-up rock 'n rolling bar owner in severe financial distress. On the brink of losing her beloved business, Amy's life is only made more complicated by a phone call from her father's retirement home. Her father, who had been unexplainably absent from her life for 15 years, was diagnosed with Alzheimer's and is now being kicked out of his home. Frustrated and callous, Amy tries to shake the interruption off, but is surprised by her father's rambling admission of a large sum of money he stole and hid in a remote cabin many years ago. In a desperate act, Amy busts her father out of the retirement home and sets off to track down the missing money and save her bar. What she doesn't bank on is an enlightening trip that will bond her to her father and stir up her own need for faith, forgiveness, and honesty.
Using the father's Alzheimer's antics as comic relief, this dramatic film does a fantastic job of exploring family issues, brokenness and how God is able to heal the wounds of the past. It's not hard to instantly love Amy's dad, but it's also not hard to see why she's so mad at him. One may watch the film and think Amy's never going to get over her own pride and anger until the mirror is turned around and she sees herself in her father. It's a creative, fresh story with a truly satisfying ending. In the end (no spoilers!) Amy finds a greater treasure than the one she was after. She not only develops love for her family again, but she is able to let go of her pride, accept help, and build better relationships. This film is a great example of God's ability to mend broken families, and broken lives.
Christmas Wander
is dramatic without being too gritty; it keeps a great balance of being realistic about the issues but light enough to provide the viewer with breathing room. It's a different kind of Christmas movie, one that is real, not commercialized or overly polished – and that's what makes it so unique and fantastic. It's an easy film to watch, enjoy, and learn from. I highly recommend
Christmas Wander
for viewing any time of year, not just the holidays. We are pleased to award the Dove Seal of Approval for All Ages to
Christmas Wander
.
Content Description
Language:
"Shut up"; "Shoot" (one instance of "shoot" at the beginning of the film which sounds like "s**t" but isn't)
Nudity:
A man with Alzheimer's forgets his pants (his boxers are seen); walks outside nude (only his chest is visible)
Info
Company:
Living Word Films