Jurassic Bark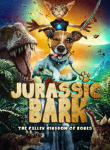 Synopsis
The Star Paws team is back, and this time it's the entire galaxy at stake! When an evil cat named Marlon Butterpaws makes plans to destroy the universe, it's up to an elite space dog team known as Star Paws to find and stop Butterpaws and save the world!
Dove Review
This joyous video is a parody of Star Wars, Austin Powers, and Jurassic Park. Marlon Butterpaws is very similar to Dr. Evil in the Austin Powers movie, and with the spaceships and laser blasts, the comparison to Star Wars is unavoidable.
The bad guys, top-secret agents for Marlon Bone, are looking for the Master Bone, a bone which will give Marlon Butterpaws the ability to rule the entire universe. So, Tony Skyfetcher and Billy June Spaceslobber, the top agents for Star Paws, the protectors of the galaxy, are dispatched to find it to keep the universe safe.
It won't be an easy search. To top it off, they learn—as does Marlon Butterpaws—that the Master Bone is stuck in the Jurassic period, and time travel will be necessary in order to retrieve the desired bone. But, as one character says, they come up with a "meatball of a plan!" The funny lines are plentiful—as a zen master at one point declares, "Sometimes the clouds form over the river while it's still snowing." "What does that mean?" he is asked. "I have no idea!" he declares.
Focusing on great characters, space battles, and a trip back in time to the dinosaur era, this film is a sure way to have fun for 70 minutes. We are awarding it our Dove Seal for All Ages. Watch it soon. Milk Bones and Milky Way—you are in for a good time!
Content Description
Language:
A character's name is Captain Tuffnut; an expression of "hellbent" is used but is not intended as swearing; a character's last name is Birdbutt.
Info
Company:
WowNow Entertainment
Industry Rating:
Not Rated