Rick Steves' Europe, Season 1
DVD Release:
July 13, 2018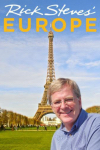 Synopsis
Rick Steves, America's leading authority on European travel, transports viewers to the continent's bustling cities, quaint villages and picturesque countryside.
Dove Review
Join Rick Steves, a renowned expert on international travel, as he guides viewers through a delightful tour of Europe's diverse cities. Destinations featured this season include Germany, Scotland, Portugal and more. Each episode is a fast-paced, snack-sized overview of the rich and fascinating history of the featured locale. Rick has an amazing way of engaging and informing the viewer all at once, handing out his well-hewn tricks and tips, with bubbling enthusiasm. As a host, he provides tons of useful information with interesting historical facts while managing to give a complete picture of each location's overall culture and uniqueness. Each episode covers so many topics in such a short amount of time (under 30 minutes), that one really feels like they're getting to know the destination like an old friend.
The series inspires travel, adventure, and educates without being boring or redundant. The episodes cover the local food, culture, religious history, government, triumphs and tragedies. It becomes clear from the very first episode that each place on our planet has its own beautiful and unique personality, and Rick is a pro at discovering and displaying that personality to make it accessible for everyone. Whether you're a travel buff or you're intimidated by embarking on your own European adventure, "Rick Steves' Europe is sure to entertain and enlighten. I for one will continue my couch adventures, living vicariously through this series! For now, anyway…
Dove Take
Rick Steves' Europe: Season 1 is an interesting, spectacular travelling show with character galore. Lacking the stuffy, tourist-y feel of some travel shows, Steve takes viewers to famous sites, local hangouts, and scenic views to provide a full, rich picture of each location's unique personality. It's worth the watch for those who have been bitten by the travel bug, and those yet to be bitten!
Rick Steves' Europe: Season 1 has been awarded the Dove Approved All Ages Seal.
Info
Company:
Rick Steves' Europe, Inc