Rick Steves' Europe, Season 2
DVD Release:
July 13, 2018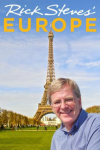 Synopsis
Rick Steves, America's leading authority on European travel, transports viewers to the continent's bustling cities, quaint villages and picturesque countryside.
Dove Review
Rick Steves is back! For the second season of this acclaimed travel show, we embark on a journey to Italy, the Netherlands, Prague, Dublin, and more. Wasting no time on frivolous filler, Steve once again approaches this season's tours with his direct, informative, and warm presentation. Dishing his best advice for a fantastic traveling experience, Steve guides viewers on and off the beaten path to get to know each location's unique culture, charm, and people.
I think what separates this show from all the other travel shows is how the host and writer can effectively tell the story of each place from start to present—a true credit to Mr. Steves' writing skills. It's not only a guide of the featured locale, but a guide to the destination's history, personality and way of life. Viewers are given a first-hand look at cultural traditions, let in on quirky and fun facts, and immersed in the destination. Architecture, food, music, government, artifacts, experts and religion come together in one interesting picture representing its locale. Viewers get a view at all the big-name attractions, of course, but interspersed with a more honest, true exploration of the location.
The Dove Take
A consummate travel professional, Mr. Steves does not disappoint with the second installment of this European travel series. Each episode is a celebration of the location it features; a live guidebook to spark your own adventure. Featuring three episodes in beautiful Ireland and two episodes in history-rich Italy, prepare to relax, enjoy, and plan your own journey!
Rick Steves' Europe: Season 2 has been awarded the Dove Approved All Ages Seal.
Note: Some episodes (Ireland, Germany) contain comments or discussions that may be too mature for younger viewers (see descriptions section). As always please use your own best judgment as to what is appropriate for you and your family.
Content Description
Sex:
A nation's views on sexuality & abortion are discussed; brothels are mentioned; a comment about "phallic" wallpaper (Germany episode).
Info
Company:
Rick Steves' Europe, Inc