Baby Animals in the Wild, Season 1
DVD Release:
July 13, 2018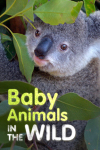 Synopsis
We take a broad range of adorable baby animals and showcase their really wild behaviors in spectacular natural habitats.
Dove Review
This series takes the viewer on an adorable, educational tour of a day in the life of various baby animals and their families. Each episode features a different habitat or environment, such as the forest, beach and African Savannah. In a documentary format, with upbeat narration by Luisa Prosser, beautiful animal footage, fun commentary and information are woven together to give viewers an insider's look into the lives of these fascinating creatures.
Exploring such species as wolves, elephants, koalas, kangaroos, jaguars, grizzly bears and more, it is hard not to swoon over the immeasurable cuteness of these baby animals. Not only does the series have a huge adorability factor, it also contains just the right amount of educational information amidst the narration. Although the episodes are a bit lengthy, they manage to move at a nice pace, focusing on one species for a few moments, then moving on to another, often going back to visit the same animal family later in the day. Topics covered are eating habits, sleeping habits, familial relationships, and more. Did you know a newborn deer takes its first steps within moments of being born? Or that koalas sleep up to 22 hours a day? I'm basically obsessed with kangaroos now, because of this show!
Dove Take
Baby Animals in the Wild: Season 1 is educational, age-appropriate, and let's not forget ADORABLE! Gather around with your fellow animal lovers and adventure into the wild to learn more about the day-to-day lives of your favorite creatures. Baby Animals in the Wild: Season 1 has been awarded the Dove Approved All Ages Seal.